Previous Page
Viewing Page 1 of 4
Page: 1 | 2 | 3 | 4
Next Page
PWC Returns
Posted: December 26th, 2005
After a year long hiatus Pro Wrestling Canada made it's return to action during the month of December. Over the next several months you are going to see a facelift given to the Pro Wrestling Canada website, along with other important being posted. We would also like to announce our new promotional partnership with SVN Canada - Supplements, Vitamins, Nutrition Canada. With Reflex behind the scenes we are going to be able to promote quality events the way wrestling was intended.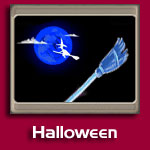 Happy Halloween from PWC
Posted: October 31st, 2004
All of the staff and wrestlers of Pro Wrestling Canada would like to wish every one a safe and happy Halloween. Remember to always wear some thing light in colour and if possible some thing reflective while trick or treating, even if your costume is dark.

We would also like to invite all out our fans to view our brand new online gallery featuring photos from the Sept 17th show in Vancouver at the Royale Banquet Hall. We have over 200 images for you to view broken down by the matches. It took out web team a little time to develop it and iron out the bugs, but every thing appears to be working fine now. If you have any issues using it or any comments on how to improve it, please contact our webmaster.
http://www.prowrestlingcanada.com/gallery.php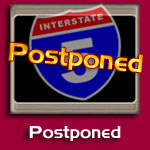 Shows Postponed
Posted: October 19th, 2004
Due to scheduling conflicts in both the United States and Canada, PWC is forced to reschedule two of its upcoming shows. The show scheduled for October 29th on the Ft. Lewis Military base should hopefully take place at the end of November. The November 26th Surrey, BC show will be pushed back until January 29th 2005 after the Christmas Season. The good news is we will be running another show on the 28th of January in Vancouver as well. We had wished to run sooner but many of the venues we wished to run are already previously booked with Christmas Parties right up until Christmas. We will keep you posted as details come in.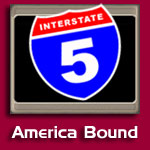 Pro Wrestling America???
Posted: September 22nd, 2004
Pro Wrestling Canada is proud to be part of a fundraising event being put on by representatives of the US Military. The show is to honour all soldiers who died in Iraq and to raise money for their families who are coping with these loses and need all the financial help they can get. With this great event being held on October 29th in the Jensen Gym at Ft. Lewis, Washington opens the doors for us to us to form Pro Wrestling America. Tickets for this Event will be $15 USD, once we have more information we will let you know. http://www.prowrestlingamerica.com coming soon.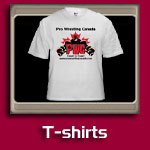 New Merchandise Being Added
Posted: September 21st, 2004
We are beginning to add PWC clothing to our online shopping cart. Our first item is a 100% White Cotton T-shirt. It comes in Sizes Small, Medium, Large, Extra Large, and Extra Extra large. Each shirt costs $20 dollars CAD ($22 for XX-Large) with $5 shipping and handling per order within Canada and $10 shipping and handling per international order. If you would like to buy these shirts in high quantity for re-sale please contact our merchandise department listed on the contact page.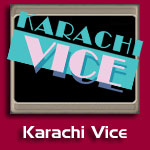 Vancouver Conquered
Posted: September 18th, 2004
September 17th has come and gone and it is safe to say PWC is finally on the map with one show under our belt and many more to come. Even with all the unforeseen problems occurring in the days before the show every thing turned out extremely well. 380 people showed up to show their support for Pro Wrestling Canada at the Royale Banquet Hall coming close to the halls legal capacity. We would like to thank Variety – the children's charity and several of the special needs children who came down to the event.

The night had some very interesting situations happen. At the beginning of the show a very disable Moondog Manson he was able to wrestle to a degree. Given his recent hospitalization that should have him barely able to walk he laced up the boots proving his strength to survive. But what must have been the shocker of the night was the reformation of the Karachi Vice with Cobra, Akam, and Gama Singh. General Manager Bad news Allen gave the crowd what they wanted to see and stated that the Karachi Vice will be Facing Moondog Manson, Notorious TID, and Maniac Matt Borne in a no holds barred street fight. To make things even more interesting each team will have a captain, and the team captain of the winning team will be declared the first ever PWC Canadian Heavyweight Champion. So be sure to check back as the details unfold of where the November 26th show will be held.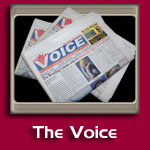 PWC makes headlines!
Posted: September 8th, 2004
Pro Wrestling Canada has caused quite the stir with wrestling fans all over North America and wrestlers from around the globe who are eager to get signed by PWC. On August 21/2004 The Indo Canadian Voice Newspaper did a full 3 page cover article on Pro Wrestling Canada. The article touches on a number of subjects, including the top talent that PWC has signed. However the focus point of this whole article making front page news is that Pro Wrestling Canada aims to restore the sport to its glory, and how true that is. We have had numerous emails, letters, and phone calls stressing the fact that it is time that professional wrestling makes its return to the main stage of Canadian Sports. All of us here at PWC would like to thank everyone who has shown their support, and all the pre sold tickets for our almost sold out Sept 17th show at the Royal Banquet Hall in Vancouver.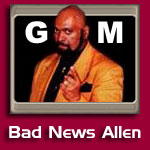 Countdown to September 17th
Posted: September 7th, 2004
As the final week approaches before the first ever Pro Wrestling Canada, General Manager Bad News Allen has made it clear in sending his message to the PWC Superstars. "If the show does not go the way that I want it to go, be assured that I will dust of the ole Ghetto Blaster, and let the troublemakers find out firsthand who the real boss is!" stated the GM who has been very busy over the past few weeks. From television to radio the GM has been actively busy with letting everyone know what PWC is about.

PWC officials and superstars have been totally supportive of the General Manager. "We will let him conduct business his way, the old school way!" commented PWC official Gary Jones. When asked PWC official Zakir Khan said "When it comes to who's the boss it boils down to the GM, we all feel that his presence as been a great addition to PWC".

"There is no telling with this guy, I am going to make sure I am on his good side, cause I would hate to be on the receiving end of the Ghetto Blaster!" laughed PWC superstar Mr. India who is looking forward to Sept 17 when he and his tag team partner Gorgeous Michelle Starr are in action against, the unorthodox duo of the Italian Grappler Fabio and the former convict Machete Singh.

So be sure you mark down the 17 of September in your calendar for the unveiling of Pro Wrestling Canada.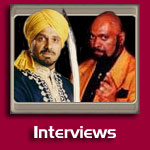 Gama Singh and Bad News interviews
Posted: September 3rd, 2004
The Pro Wrestling Canada video editing staff is putting the finishing touches on several interviews with our stars. Included in these interviews conducted by Double J of the broadcast team are interviews with Gama Singh and PWC General Manager Bad News Allen. Portions of these interviews will be appearing on the Shaw multicultural show Punjabi Vibes.

Bad News Allen recently appeared on Winnipeg radio station 107.9 FM and stated the long term goals of Pro Wrestling Canada. We have been receiving excellent feedback from the wrestling fans in Winnipeg and we hope to announce PWC show dates for the province of Manitoba for 2005.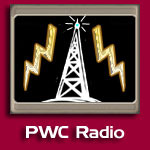 Pro Wrestling Canada radio coming soon
Posted: August 30th, 2004
Pro Wrestling Canada is proud to announce Pro Wrestling Canada Radio. G.M. Bad News Allen is just trying to hammer out the finer details. The expected launch of PWC Radio is mid October according to the G.M. You will be able to hear all the happening of PWC, as well as upcoming show, PWC superstar spotlights, and of course news and rumours from around the world. Be sure to stay tuned for the launch of the PWC RADIO!
Previous Page
Viewing Page 1 of 4
Page: 1 | 2 | 3 | 4
Next Page